#17
26 October 2016

at 14.00
Past event
The IMF Crisis: 40 Years On
HM Treasury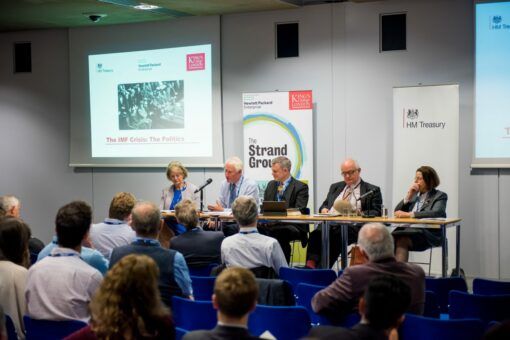 The event saw a number of key experts and protagonists take part. The day started with a welcome from Tom Scholar, HM Treasury Permanent Secretary and formerly Executive Director of the UK's Delegation to the IMF, who noted the importance of the events in 1976 in the institutional psyche of the modern Treasury.
Three panel discussions followed. The first focused on the economics of the IMF Crisis. It was chaired by Duncan Needham from the University of Cambridge, with Permanent Secretary to the Treasury from 2005 to 2016, Lord Macpherson and Senior Economics Commentator, The Observer, William Keegan discussing. They expertly covered a whole range of issues, including the inflation shock of the early 1970s, the break-down in the macroeconomic policy consensus and the recurrence of sterling crises in the post-war period.
The second panel discussed the politics of the IMF crisis. It was chaired by Dr Jon Davis with contributions from former Cabinet Secretary, Lord Butler of Brockwell, Baroness Jay, Public Appointments Commissioner, Peter Riddell and Professor Kathleen Burk.
The third panel was titled 'The IMF Crisis: Memories'. Panellists included Political advisor to James Callaghan Head of the Prime Minister's political office at Downing Street from 1976 – 1979, Lord McNally; Former senior policy advisor to Harold Wilson and James Callaghan, Lord Donoughue; IMF mission members, Eduard Brau, Haris Vittas and Les Manison .
The day finished with closing remarks by David Gauke MP, the Chief Secretary to the Treasury. He remarked that an understanding of the historical context is crucially important for a policy department like the Treasury.