Director's Blog – September 2019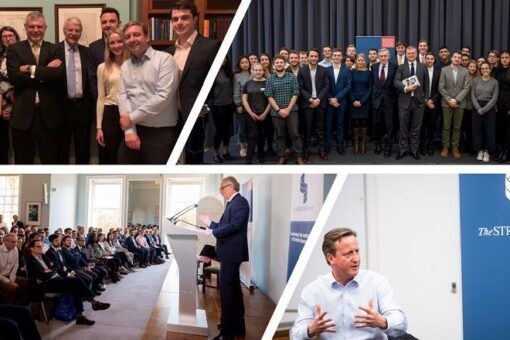 This Autumn marks five years since my team and I joined King's, and the past one was our busiest yet. All four (at the time) living former Prime Ministers kindly addressed our students and friends: Sir John Major and Tony Blair giving keynote lectures, Gordon Brown and David Cameron were very special guests answering questions form our students in our Treasury and No.10 Downing Street-partnered classes. We launched a new teaching module – our first undergraduate one at King's – and welcomed the City of London Corporation and Amazon Web Services as sponsors. It was also brilliant to launch my own book 'Heroes or Villains?: The Blair Government Reconsidered', co-written by John Rentoul, based upon our long-running class.
I'm pleased to say that the team is in good shape: our Manager, Martin Stolliday, was recently promoted; having submitted her PhD thesis, Michelle Clement is now full time with us which incorporates her role as Researcher-in-Residence at No.10; Dr Jack Brown recently published his first book 'No. 10: The Geography of Power at Downing Street' and will launch this month his new teaching module 'The History and Governance of London'; while Jan Gökçen will return this Autumn to begin a PhD on a 'A History of the Ministry of Defence'.
We have already placed in the diary some really quite mouth-watering events for the coming year: Lord Macpherson of Earl's Court will look back over 'A Century of British Economic Crises: Cause and Response'; Sir David Omand will give the eighth Sir Michael Quinlan Memorial Lecture on 'The Future of Deterrence'; while the Chief of the Defence Staff, General Sir Nick Carter, will look at upcoming challenges.
I'm also delighted to announce that, after several pilot sessions, we have been procured by the Treasury to deliver Executive Education. These history-based training courses will support their efforts to improve their institutional memory, and help offer a historical dimension to policymaking – demonstrably applying rigorous academic research to the most practical of settings.
And, if one counts our predecessor the Mile End Group to be part of one continuous body of work, as we do, 2019 marks our fifteenth anniversary. Who could have envisaged back in 2004 that our governing institutions would be under pressure in quite the way they are today? It is wonderfully challenging to engage with contemporary history against such a fast-moving background.
Seeking to better understand how government really works is the common bond to all our events, research, teaching, and now training activities which are for the benefit of our students, and increasingly for government. Based in the Policy Institute, and working closely with colleagues in the Department of Political Economy, War Studies, and History, do get in touch if you'd like to join us at our events or to hear more about any of our work. Best wishes to all in what are proving to be 'interesting times'.
Dr Jon Davis
Sign up to the Strand Group mailing list here.