'Engaging' essay voted winner of inaugural mayor's prize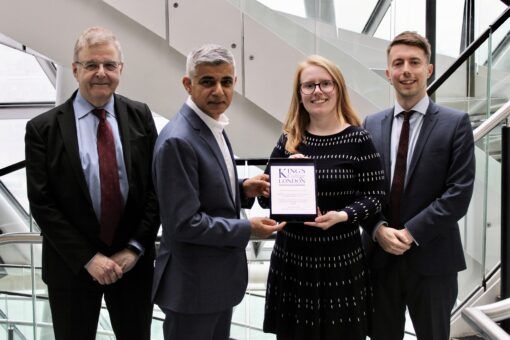 Kate was selected as the inaugural winner of the Mayor of London's Essay Prize for her thought-provoking work looking at the London Plan – the spatial development strategy for Greater London published by successive mayors – and its impact on efforts to boost affordable housing rates in the city.
As part of her prize, Kate, who was studying for an MA in Politics and Contemporary History, was invited to City Hall on 4 October to discuss the essay with the mayor of London, Sadiq Khan, and meet with members of his policy and delivery team.
Kate said: "I was pleased with the essay when I submitted it, but it was a nice surprise to hear I'd won the prize and really nice to come to City Hall and meet the mayor."
Kate added that she particularly enjoyed writing her essay, titled 'the Mayor's London plan is of no value in achieving their affordable housing goals – discuss', as it allowed her to understand more about the governance of the capital and its recent history.
Lecturer in London studies, Dr Jack Brown, and Tony Halmos, visiting professor with the Policy Institute at King's, accompanied Kate to City Hall. The essay prize was part of Kate's MA module, London: History and Governance, taught by the Strand Group. The three highest graded essays were submitted to the Mayor's office, who then chose a winner.
Dr Brown said: "We had some excellent essays submitted this year so it is testament to the quality of research and insight in Kate's work that her submission was chosen as the winner. It was an engaging read and achieved a high mark, and I am delighted the mayor's office liked it too."
Natan Doron, Mayoral Head of Policy, said: "It's fantastic to be able to support Kings and the great work they are doing deepening academic understanding of London's history and governance. It was a pleasure to read all three finalists' essays and to have a chance to think about the work we do through their reflections."