Honour for Strand Group Director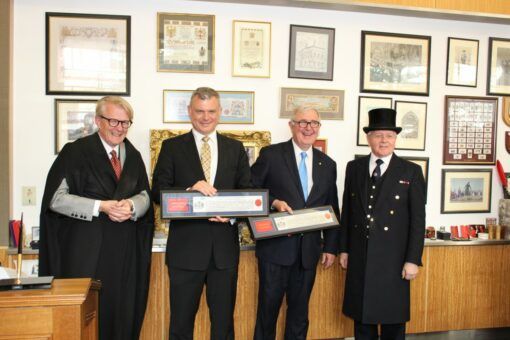 At a ceremony at the Guildhall on Wednesday 11 July, both Dr Davis and the President and Principal of King's College London, Professor Ed Byrne, were made Freemen; a tremendous honour that dates back to 1237. Becoming a Freeman of the City of London is thought to be one of the oldest surviving traditional ceremonies. From the Middle Ages and the Victorian era, the Freedom was the right to trade, enabling members of a Guild or Livery to carry out their trade or craft in the Square Mile.
The ceremony was followed by a reception attended by several Visiting Professors at King's, including Lord Adonis, Ed Balls, Dr Simon Case, Tony Halmos, Baroness Jay, William Keegan, Catherine MacLeod, Lord Macpherson, Baroness Morgan, Sir Dave Ramsden and John Rentoul.
Dr Jon Davis said "As a born and bred East Londoner, to be made a Freeman of the City of London is one of the greatest of honours."