Simon Case and Clare Lombardelli appointed as Visiting Professors at King's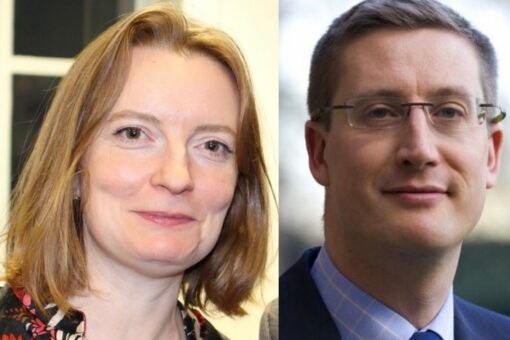 Since January 2018 Dr Case has been Director General Northern Ireland and Ireland, based within the Department for Exiting the European Union. He has served as the Prime Minister's Principal Private Secretary, and as the UK Sherpa for the G7 and the G20. Previously, he was Director of Strategy at GCHQ. In July, Dr Case will become Private Secretary to His Royal Highness the Duke of Cambridge.
Clare Lombardelli is Director General, Economics and Chief Economic Advisor to the Treasury. In this role, she works to deliver the government's macroeconomic objectives, promoting sustainable economic growth and setting and implementing fiscal policy. She also manages the Economics and Fiscal Groups in Treasury, sits on the Executive Management Board of HM Treasury and is co-head of the Government Economic Service.
Since joining the Treasury in 2005, Ms Lombardelli has worked on a range of policy areas, and served as Principal Private Secretary to then Chancellor George Osborne from 2012 to 2015. Ms Lombardelli has also worked for the IMF during the Eurozone crisis and for David Cameron, in No. 10 Downing Street.
Ms Lombardelli and Dr Case, who were previously both Visiting Senior Research Fellows at King's, will continue to contribute their expertise and experience to the Strand Group's teaching modules, events series and research initiatives.
The Director of the Strand Group Dr Jon Davis said: 'We at King's are absolutely delighted to welcome Simon Case and Clare Lombardelli as Visiting Professors. We are looking forward to their continued input into our teaching research and events programmes.'