Strand Group MA student wins Mayor of London essay prize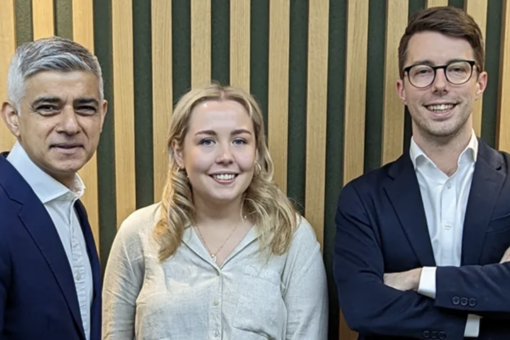 A Strand Group MA student has won the prestigious Mayor of London's Essay Prize.
Lydia Evans's essay focused on how London also needs to be part of the government's levelling up agenda, and was selected by the Mayor of London, Sadiq Khan, as the winner of the prize for 2021-22.
I am very pleased to have won the Mayor of London's essay prize, and to have met the mayor and his team to discuss it. I've always had an interest in local government, and the module gave me the opportunity to learn more about local government in London while I lived and studied in the city.

Lydia Evans, MA student and winner of the Mayor of London's Essay Prize 2021-22
The prize was established by Dr Jack Brown, Lecturer in London Studies at King's, in partnership with the Mayor of London's office. It is open to those students on his "London: History and Governance" master's module, part of the Strand Group's teaching at King's. The three highest graded essays are sent to the Mayor's office and a selected winner is invited to visit City Hall to discuss the essay with the Mayor of London and their policy delivery team.
Natan Doron, Mayoral Head of Policy, said: "It's an honour to be able to support King's and the great work they are doing deepening academic understanding of London's history and governance. This is a crucial time for our country and we need a deeper understanding of our capital city and the role it plays in our national story. The essays were strong this year and engaged with topics that are crucial to London's past, present and future. Congratulations once again to Lydia."
Lydia Evans, MA student and winner of the Mayor of London's Essay Prize 2021-22, said: "I am very pleased to have won the Mayor of London's essay prize, and to have met the mayor and his team to discuss it. I've always had an interest in local government, and the module gave me the opportunity to learn more about local government in London while I lived and studied in the city. I particularly enjoyed the fact that the module's classes took place outside of King's – especially the trip to the offices of Jacobs. This is actually how I first found out about the company, and I applied for its graduate scheme on completing my Masters at King's. I now work there!"
Dr Jack Brown, convenor of the "London: History and Governance" MA class, said: "I am very proud of Lydia for her achievement, and of all the nominees for the prize for producing such excellent work. Lydia's essay was a great piece of academic writing, but also engaged with some of the biggest issues facing our city today. So I am delighted that the Mayor and his team took the time to meet her and discuss it with her."